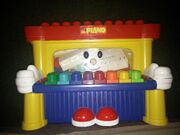 Mr. Piano was a musical keyboard designed for children.
Included with the keyboard
Edit
Mr. Saxophone
Mr. Violin
Colored blocks
White blocks
Sheet music stickers
Demo songs
Edit
London Bridge
Twinkle Twinkle Little Star
Mary Had a Little Lamb
Predecessors and Successors
Edit
Winnie the Pooh Piano
My Teaching Piano
Smart Builders Piano
Billy Beats Dancing Piano
Mega Bloks Learning Station School Piano
Ad blocker interference detected!
Wikia is a free-to-use site that makes money from advertising. We have a modified experience for viewers using ad blockers

Wikia is not accessible if you've made further modifications. Remove the custom ad blocker rule(s) and the page will load as expected.